The past few days have felt like third grade all over again. Remember when Pogs were just monstrously popular? And you would go over to a friend's house and play with your Pogs, and then instead of actually playing, you would just trade a certain sweet pog for a couple not-as sweet pogs. Well that is exactly what has been going on in the NBA and the MLB the past few days. Just trades galore as if these players are Pogs.
Let's just go over a list of trades that have gone down the past few days:
NBA
Celtics get Kevin Garnett; Timberwolves get Al Jefferson, Ryan Gomes, Gerald Green, Sebastian Telfair, Theo Ratliff, and two first-round draft picks (one of which orginally belonged to the TWolves anyways).
This trade is a big deal for me. Whenever I defended the Wizards to anyone who thought they had no shot at winning the Eastern Conference, I could always point to the fact that no team had three players that were as dynamic as Gil, Caron, and Antawn. No so anymore. Ray Allen, Paul Pierce, and KG are THE best threesome in the NBA. And to make matters worse, the biggest weakness for the Wiz kids is defending the interior. Luckily up until this coming season nobody in the East had that formidable of an interior that could really capitalize fully on the Wiz kid's weakness. Not so anymore with KG in Beantown. Last season in two games against the Wizards, KG had 26 pointsand averaged 15 boards. There's a reason that the one team I always fear in the East used to be the Heat. Shaq could dominate Brendan Haywood and Etan Thomas on one leg if he wanted to. And now they're going to have to deal with an in his prime still and coming out with a vengeance Kevin Garnett. Oh yeah, they have Ray Allen and Paul Pierce too. Couple that with Zach Randolph possibly rejuvenating the Knicks and Rashard Lewis teaming up with Dwight Howard and you guessed it. I'm depressed. This sucks.
I have to admit it: The NEW Big Three. I hate that smiling bastard...and Kevin McHale for pulling the trigger on this deal.
Think about all the teams that you could reasonably predict to make the playoffs given what's happened this offseason (this is in no particular order):
Cavs
: Defending Eastern champs. Nuff said.
Bulls
: They were good and added Joakim Noah
Celtics
: I think I might start hating Simmons because he's gonna talk about his team like crazy next year.
Heat
: DWade and Shaq
Nets
: Jason Kidd, Vinsanity, RJeff and a healthy Nenad Kristic
Wiz Kids
: Nervous laugh because I will not hear the end of it if there is no playoffs this season.
Magic
: Worst contract ever, but no denying Lewis can get 20 points whenever he wants to.
Bobcats
: New coach, added Jason Richardson, resigned Gerald Wallace and there's this guy Emeka too.
Pistons
: I hate them, but they've got the same team that they always do.
Knicks
: I'm betting Isiah screws it up though
Pacers
: They still have a guy by the name of Jermaine O'Neal
That's 11 teams, and I bet people in Philly, Milwaukee, and Atlanta have reasonable arguments why they can make it too. There's only eight friggin' playoff spots to begin with. The more and more I think about it, the more and more I'm certain this season is going to be the most fun/most worrisome NBA season to be a Wizards fan...ever!
MLB
Braves deal for Mark Teixeira and Octavio Dotel
Red Sox deal for Eric Gagne and deal Joel Pineiro to the Cards
Pirates get Matt Morris from Giants for top prospect Rajai Davis
Mets get Luis Castillo from Twins
Dodgers trade Wilson Betemit to Yankees in exchange for Scott Proctor
DRays pick up Dan Wheeler from Astros
Phillies pick up Kyle Lohse, Julio Mateo and Tadahito Iguchi
Padres get Scott Hairston, Rob Mackowiak, and Morgan Ensberg in various minor deals
Reds get Jorge Cantu from DRays
Indians get Kenny Lofton from Rangers
Wow, I'm guessing you didn't realize how many trades actually went down in the last week. And I realize that the only HUGE deals were for Gagne and Teixeira, but still that's a lot of pogs going to new places. Let's take a minute to analyze all that actually happened in the past week or so.
Everybody is proclaiming that the Braves should now be considered the favorite in the NL after dealing for Teixeira and Dotel. I'm not disagreeing with anyone about this, but I'm just not ready to proclaim them the favorites just yet. But if you look at them on paper, there's really nothing that should slow them down, especially in the weaker National League. They've got two front line starters in Smoltz and Hudson, in addition to solid Chuck James and Buddy Carlisle. Now, their order looks damn imposing with Renteria, the Jonessssss, and Teixeira (although Andruw better pick it up soon), and the bullpen has been solidified by the addition of Dotel. Now that I wrote all that out, maybe they are the favorites to come out of the NL.
Another trade deadline and another year of doing nothing for the Natties. Meanwhile Tex and the Braves are going to be awesome.
And the big winner in the AL has to be the Red Sox. Up until this weekend, I was resigned to the fact that the Tigers were going to make another deep run into the playoffs and although it pained me I was picking them to go all the way to the World Series. But my inner Lee Corso, says not so fast my friend. After getting torn a new asshole by the Angels last weekend, the Tigers are no longer the favorite and are now in one helluva dogfight to even make the playoffs. The Indians are just one game back in the central as I write this. The Red Sox have to be considered the clear favorite in the AL. They have Curt Schilling coming back in the next week or two, and now they have a bullpen that can pretty much hold down the 6-9th innings. All they need out of their starters is five innings. That's it. Think about it: Manny Delcarmen, Hideki Okajima, Eric Gagne, and Papelbon. And I haven't even mentioned Mike Timlin, who has shown he can handle pressure situations in the playoffs.
Then there's the Yankees. Does anyone else realize that this team sits just 3 games back of Cleveland in the wild card race right now? That's just scary. Let's be serious, even if they do make the playoffs it's likely a one-and-done situation assuming the Tigs, Angels and Sox hold on these last two months. But still, 3 GAMES! But they didn't really do anything to help themselves getting Betemit. Where are they going to play him. 1st base? Maybe. And in the process they gave up the one thing they actually needed more of: relievers.
All the other deals were relatively minor. I like Castillo filling the void at second base and he can definitely be a nice complement with Jose Reyes in hit-and-run situations. Can someone say 1st to third...and possibly home with a hit-and-run and Reyes running from 1st? I also liked Kenny Lofton going back to Cleveland because it just feels right for Kenny to be playing for the Tribe. And Dan Wheeler to the DRays, well, I was at the lakehouse during the weekend when the Yankees scored what seemed like a trillion runs against Drays pitching, so I guess Wheeler should help. And everyone and I mean everyone around baseball is just ripping the Pirates a new one for trading a top prospect for Matt Morris. The guy is over-the-hill and apparently the Giants were trying to give him away to Salvation Army when out of nowhere the brilliant minds at PNC Park decided to outbid themselves.
This is probably my last post while living in New York City. I move out tomorrow morning. I still have another week of work here, so I'm living with the aunt and uncle in Westfield, NJ. I'll be at Jets Training Camp at Hofstra on Monday, so hopefully I'll have some cool stuff from there. I figure it's about time I stopped talking about basketball and started getting into football mode. It's August already. Where did the summer go?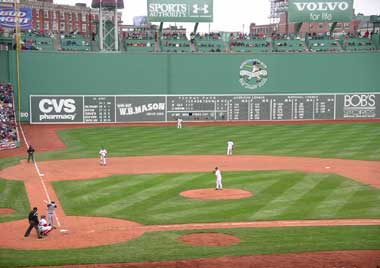 I'm predicting we'll be seeing some World Series games at Fenway this fall.