Happy Rosh Hashanah to all the Jews out there. No I didn't forget to post because I was attending services, I was busy basking in the glow of that Cowboys defeat this past Sunday. That Jim Zorn, he might be onto something. Don't look now, but even if the Skins lose to the Eagles next week, they've got upcoming games against Jim Haslett's soul (they are officially back to being called the lambs by the way), Braylon Edwards rotting corpse (that's just some fantasy bitterness coming out, I still love Braylon), and the perpetual football coma that is the Detroit Lions. If I was a betting man, I'd put the Skins at 6-2. All that said, the Philly game looks awfully winnable, especially if Brian Westbrook isn't playing.
But enough about the Skins. They don't need the press right now. I'm actually terrified this winning might go to their heads, so let's switch topics to someone else who at some points in times terrifies me and at other times keeps me alive with laughter.
As you all probably will know by the time you read this, Al Davis finally ended the "Will he fire boy wonder Lane Kiffin or continue to let him hang out to dry" saga with a bang. The Raiders owner went out and just lambasted the guy publicly, calling him a liar and then had the audacity to bring up Chris Mortenson. Seriously, every time he would go back to Chris Mortenson's story during that press conference, he'd make sure to mention just whose story it was. As if it were Mortenson's fault all this happened, you crazy old kook.
The hiring
It's not all hate for Al Davis here. I gotta admit, it was kind of refreshing to hear the owner shoot off at the mouth in public. The guy had something to say, and no matter how crazy he looked in that weird looking sweater vest, he was going to say it. Although I kept getting the image as Davis's head and specifically turkey-like neck kept twitching about as if he hadn't seen the light of day in awhile. It was as if he knew the presser was going on too long and the early bird special was running about down the street.
But unlike the rest of the sporting world that hides behind its cliches and inner circle rights when it comes to speaking with the media, Al Davis said what he felt, despite the questions of sanity all of it raised. What I'm trying to say, is I learned a lot about and from Al Davis and I'd like to share some of that enlightenment with you:
1) There is still a need for mailmen
In trying to prove that the all the media reports about Kiffin's frosty relationship with ownership and his imminent firing were false, Al Davis decided to show the press a letter that Davis sent to Kiffin after the Raiders' opening season loss to the Broncos.
Mind you the contents of said letter, which lest we forget was fedexed to to really get the point across, contained pointed criticism about the way Kiffin was handling the team and warning that his job was in jeopardy. Oh yeah, and since the reports were off about that deteriorating/non existant relationship, the letter was absolutely necessary. Oh wait, Al Davis works in the same office as Kiffin, at the very least has assistants who know how to send an email, and confirmed today that he indeed had Kiffin's phone number since he used it to fire Kiffin.
2)This might be the beginning of some epic firings
This is about as public and bad a firing I can remember. It's probably just an anomaly considering we're just off the nicest firing of all time with Ned Yost and the Brewers (I'm still in shock the GM sent Yost an email saying thanks for all the hard work. You fired the guy two weeks ago. I'm trying to think of a good analogy but the only thing I keep thinking of is someone handing another person some brownies, promptly kicking them in the nuts, only to give them the brownies back. What was the point if you were on such hearty terms).
But in all seriousness, I just happened to be watching Back to the Future II right after Al's press conference ended and couldn't help but watch with delighted anticipation as Michael J. Fox's character gets fired by a boss who shows up on a big screen yelling You're Fired in a stereotypical Asian accent while fax announcements of the news come streaming in from every direction. That's our future, and I like thinking about the future meltdowns that could ensue. If Christopher Lloyd and the DeLorean say it's going to happen, I think we can mark it down as fact.
3) Lastly, but most importantly, Al Davis's pockets are definitely straight
What can you really say about the guy? We were expecting crazy out of Al Davis and the man delivered with flying colors. You can hate him, but I love him. He's like Mr. Wilbur on Dennis the Menace except cracked out, older, and more vindictive. Then you've got little Lane Kiffin running through his garden (or I guess in this case football team) making a mess. Al decided enough with the shenanigans and put the kid in his place and let us all know: I'm rich, I like me some dysfunction, and I'm not selling the team.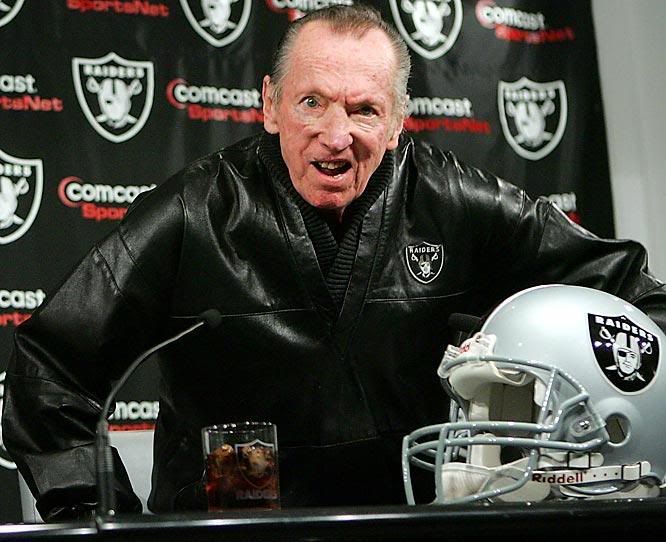 DEEENNNNNISSS!!!!
So sit back and enjoy the bashing Al Davis is going to take over the next couple of days. But c'mon, you can't tell me that old bastard wasn't entertaining. When Al Davis speaks, I listen with a sarcastic grin on my face.