I've got to admit, ever since the Nats got rid of Jim Bowden a couple weeks ago, my interest in the upcoming MLB season has taken on some renewed excitement. I'm actually mildly interested in a potential batting order that includes Lastings Milledge (CF), Ryan Zimmerman (3B), a hopefully healthy Nick Johnson (1B), and 40-home run guy Adam Dunn (he'll only get 30ish this season, you heard it here first). Throw in a nice little corner outfield platoon involving Josh Willingham (good for a .270, 20-HR year), Elijah Dukes (and his potential to actually produce monster numbers for more than just a week at a time), the wildly disappointing and yet somehow still intriguing Austin Kearns (hit .294 in spring training).
Now I'm not saying I've got the Nats pegged for a playoff spot. I'm thinking a ceiling of a .500 record with glimpses of a young pitching staff that could become the core in the future. Although things could go horribly wrong as well. Yes, they'll have a better lineup, but c'mon John Lannan is the No. 1 starter. That's not exactly ace material in my book. The average age on the staff is 27 with two rookies who've only played a bit in September last year. The grizzled vet of the group is
everyone's favorite 12 cigarette-a-day smoker (and sometimes mediocre starting pitcher), smokin' Scott Olsen.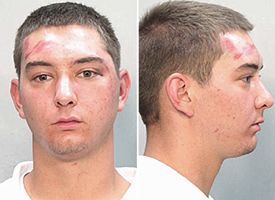 Obligatory mug shot of Scott Olsen
That's the name of the game in baseball, though. Pitching is such a commodity that a guy like Olsen — owner of a 4.20 ERA, 8-11 record, and decreased velocity last season — is considered a quality starter for a struggling team like the Nationals. People like Olsen are why I always thought Dontrelle Willis would eventually be back in professional baseball. He had control issues, but something told me I was gonna see him in MLB again. He was too good for that one-and-a-half to two-year span. I just refused to accept him as a flash in the pan. And as you can tell, I was a fan of the quirky leg kick/delivery, better than advertised athleticism, and street cred charisma-wise.
Well, now comes news that the Dontrelle Willis saga in Detroit has taken a weird turn.
He's now been placed on the DL with an anxiety disorder.
Willis said the diagnosis was made through a blood test. The condition, though, is psychiatric in nature. According to the Web site of the Anxiety Disorders Association of America, the disorders "develop from a complex set of risk factors, including genetics, brain chemistry, personality and life events. ...

"I'm never depressed at all -- I've always been an amped-up guy," he said. "This is not something where I'm uncontrollable. … Everybody will tell you in the locker room that I've always been upbeat, regardless of what's going on.

"This is not something where I'm too amped up, I don't know where I'm at, and I'm running sprints up and down the parking lot. This is not something like that. (The doctors) see something in my blood that they don't like. I'm not crazy. My teammates might think I'm crazy. But this is not something like that."

Dombrowski said Willis will undergo treatment but didn't specify what it would involve. He believes the diagnosis does illuminate what transpired last year, when Willis went 0-2 with a 9.38 ERA.
I dont' know, kind of weird to me. From what Willis said, it either seems like Dontrelle hasn't accepted the diagnosis and this could be a long process or the doctors have him misdiagnosed. If nothing's wrong with him, how the hell does he have an anxiety disorder? I don't know, maybe I'm too pessimistic, but I don't see this ending well. And to that end, the whole second part of the article is about speculation that the Tigers are calling this a "mental illness" so they can try and get insurance money to pay for some of the $29 million damaged-goods Dontrelle is still owed. So I'm assuming Detroit has less than optimistic feelings about this latest development.
It feels like a long time since this press conference.
It'll be interesting to see what happens with the Tigers this season. There's a lot of speculation that attendance figures there will drop dramatically because of the economy. There's even talk of a potential fire sale. I think that's overblown, especially if Detroit can stay in contention much of the year. Stuff like the Dontrelle saga has clouded the fact that this was a team with huge expectations a year ago.