The more and more I look at my pick of the Heat as Eastern Conference champ, the more and more I cringe. But as much as I want to back out of it (and I almost edited that post about 5 minutes after posting) I just can't find myself picking the Celtics or the Bulls or the Stones or even the Wiz kids. I have still yet to see a team in the East that can stop a healthy Dwayne Wade. And by the end of the season, he will be healthy...hopefully, or else I'll look like an idiot.
But enough chit chat, let's get to the Western Conference...
Western Conference preview1. San Antonio Spurs
They are boring. They are no fun to watch sometime. I dislike them so much, I had a devilish grin on my face at Scorekeeper's as I watched LaMarcus Aldridge drop 27 on Tim Duncan. But you can do whatever you want against these Spurs...except win. The Spurs just don't lose when it comes down to crunch time and all the chips are on the table.
It's basically the same squad that dispatched every comer in the West (with a little help from David Stern suspensions) with Tony Parker, Tim Duncan and Manu Ginobili leading the way. These three are as good as any three in the NBA if you ask me. And what makes them truly unique is Ginobili's ability to stand in the background as compared with loverboy Parker and Gentile Giant Tim Duncan. He swallows his ego even though he could be a more prominent piece on a worse team. Throw in a great defender in Bruce Bowen and deadly 3-point shooters like Michael Finley, Brent Barry, and Big Shot Bob and you've got a juggernaut that's got a couple more years of dominance ahead of them...as long as Timmy stays healthy.
Player Who Will Make Me Look Smart:
Michael Finley
Player Who Will Get Lots of Coach Frowns:
Bruce Bowen
2. Phoenix Suns
They added Grant Hill and got rid of Kurt Thomas. So essentially they traded in a few more wins during the regular season for the one defender who could hold Tim Duncan below 30 points in a playoff game. It only becomes one of those wise decisions that leads to a championship if Amare Stoudemire becomes that solid defender we all know he has the athletic ability to be. Don't get me wrong this team will still be one of the best with Nash, Marion, Amare, Diaw, Barbosa and the like. But they've been one of the best for the past few years. This season is all about Title or bust. My gut tells me they haven't done enough to be anything but bust.
Player Who Will Make Me Look Smart:
Boris Diaw
Player Who Will Get Lots of Coach Frowns:
Marcus Banks
3. Denver Nuggets
It may surprise some people that I have them ranked ahead of the Mavs. But have you looked at their starting lineup. AI, Melo, KMart, and Camby all in the same starting lineup. That's two former leading scorers in the NBA, a guy who finished No. 2 in defensive player of the year, and last year's defensive player of the year. All in the same lineup. And don't take for granted how much better Melo and Iverson will play together now that they've had an entire training camp to get on the same page. This is a team that could really sneak up into the upper echelon this year.
Player Who Will Make Me Look Smart:
Kenyon Martin
Player Who Will Get Lots of Coach Frowns:
Nene
4. Dallas Mavericks
They basically got the worst draw ever when they had to face Golden State in the first round last year. Don Nelson exposed every one of their weaknesses. This is exactly why I believe the Mavs are going to take a step back this year. Everyone knows their weaknesses, and they haven't done anything to fix them in the offseason. The entire team is overrated. Devin Harris is not a championship point guard. Jason Terry is on the decline. Josh Howard, to me, is nothing more than a nice piece. He isn't the quasi-superstar that some people make him out to be. Nowitzki will never be the No. 1 option on a championship squad. And Erick Dampier...well enough said.
Player Who Will Make Me Look Smart:
Trenton Hassell
Player Who Will Get Lots of Coach Frowns:
Jason Terry
5. Utah Jazz
That deep run to the Western Conference Finals surprised a lot of us, but it was more a function of the Mavs losing. Utah matched up perfectly with Golden State. But let's not forget, this team has a bona fide star in Deron Williams, who plays alongside two very legitmate big men, Mehmet Okur and Carlos Boozer. The key to a jump in wins comes down to one man, though. If Andrei Kirilenko can return to the level of play he showed two seasons ago, this is a team that could get back to the Western Conference Finals with the right breaks. But Jerry Sloan hates AK and the feeling is mutual, so I'd expect some kind of trade before the deadline.
Player Who Will Make Me Look Smart:
Ronnie Brewer
Player Who Will Get Lots of Coach Frowns:
Andrei Kirilenko
6. Houston Rockets
This is how big the gap still is between the Eastern and Western Conferences. I would pick the Rockets to win the east. I'm a huge Yao Ming fan, but he has yet to show he can make it through an entire season unscathed. McGrady's chronic back problems also worry me. Talent-wise, they are amongst the elite in the NBA. But you can't tell me with a straight face that McGrady won't miss 10-15 games with some sort of injury. And once you stopped laughing from trying to keep a straight face with Tracy, I would win again when you couldn't tell me with a straight face that Yao won't miss 10-15 games with an injury of his own. That accounts for the five seed, and without home court advantage, I just don't see them making the jump.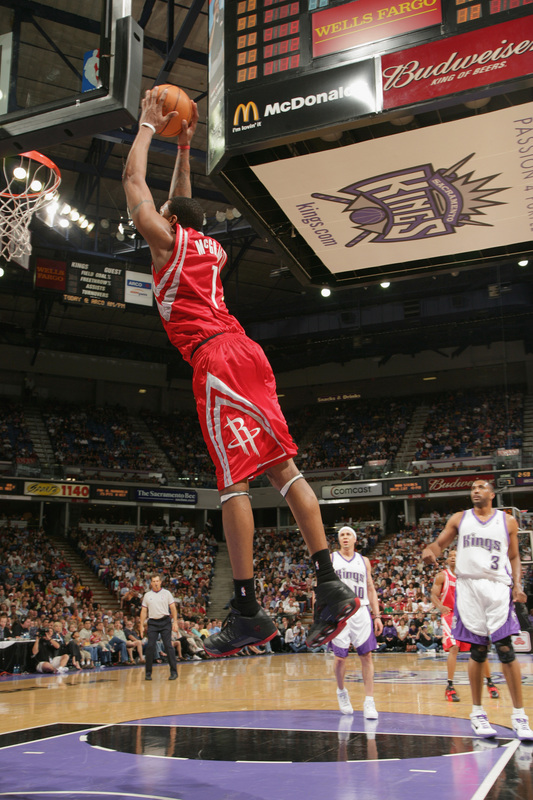 Player Who Will Make Me Look Smart:
Luis Scola
Player Who Will Get Lots of Coach Frowns:
Steve Francis
7. Memphis Grizzlies
This is my surprise pick amongst the West. I think the Grizzlies will make the leap from worst team in the conference to playoff squad. They signed Darko Milicic, who I promise will be a difference maker this year. Rudy Gay, my favorite player from the city of Baltimore, is only going to improve. Then, at point guard the Grizzlies have Kyle Lowry coming back. Lowry would have been rookie of the year last season had he not gotten hurt. Oh yeah, they also drafted Mike Conley, Jr., who is a stud. They've also got my man, JCN, from the Wizards. Mike Miller averaged over 18 points a game last year, and he's back too. Oh wait, I forgot their best player...Pau Gasol is back from injury. And let's not forget who their new coach is: Marc Iavaroni, Mike D'Antoni's former right hand man from Phoenix. If Lowry and Conley can be as good as advertised at point guard, this team just has too much talent to fail.
Player Who Will Make Me Look Smart:
Kyle Lowry
Player Who Will Get lots of Coach Frowns:
Damon Stoudamire
8. Los Angeles Lakers
This another team that really didn't do that much in the offseason. They replaced Smush Parker with Derek Fisher, which is a move I like. This team has banked its entire season on the development of one big man: Andew Bynum. They for some reason think he's the new Jesus in waiting, which accounts for their refusal to trade him. Well, they better be right because this is a make or break year for the young Bynum. If he doesn't emerge as a consistent third threat behind Kobe and Odom, the Lake show might have to go into full out rebuilding mode. That being said, I just don't see a squad with Kobe Bryant on it not making the playoffs. He'll will them to the No. 8 seed if he has to. Now if he gets traded, this team is a cellar dweller.
Player Who Will Make Me Look Smart:
Derek Fisher
Player Who Will Get Lots of Coach Frowns:
Jordan Farmar
9. Golden State Warriors
They looked unbeatable for awhile there, but I expect the Warriors to come back down to Earth this year. They did prove that when they play with maximum effort in front of that raucous crowd, they can contend with anybody in the league. The only problems are that half their games aren't in Oakland and I don't think there's a way to play at breakneck speed for 82 games. With the Grizzlies' jump to playoff team, someone had to drop out. Throw in my doubt about Baron Davis surviving an entire season unscathed and you've got enough reasons why this had to happen.
Player Who Will Make Me Look Smart:
Matt Barnes
Player Who Will Get Lots of Coach Frowns:
Baron Davis (because of injury issues)
10. New Orleans Hornets
I just don't believe in Byron Scott, awesome coach. Yeah, he led the Nets to two straight title appearances, but then why would they get rid of him almost immediately if he was actually a legitimate coaching talent. Everyone's up on this team because it overachieved last season and they may have the best young point guard in the league, Chris Paul. Tyson Chadler can rebound with the best of them, but their success hinges on the play of Peja Stojakovic. If he can channel his inner-Sacremento King, then they've got a shot. My intuition tells me he won't.
Player Who Will Make Me Look Smart:
David West
Player Who Will Get Lot of Coach Frowns:
Bobby Jackson
11. Sacremento Kings
They've got some nice players with a lineup composed of Ron Artest, Mike Bibby and Kevin Martin. But in the west, when you're go-to player on the offensive end is Kevin Martin, you don't have much of a shot at contending. Btw, if anyone knows what happened to Brad Miller's skills, he could really use them now. Oh yeah, it doesn't bode well when your coach (Reggie Theus in this case) includes "Head Coach at Deering High on Hang Time" on his coaching resume.
Player Who Will Make Me Look Smart:
Ron Artest
Player Who Will Get Lots of Coach Frowns:
Brad Miller
12. Minnesota Timberwolves
This is the conventional pick for worst team in the loaded west now that KG is in Boston. But they've got a decent little (atleast good enough to stay out of the cellar) with Randy Foye, Al Jefferson, Corey Brewer, and newly-acquired Antoine Walker. I think they are the scrappy, never-say-die team in the West.
Player Who Will Make Me Look Smart:
Gerald Green
Player Who Will Get Lots of Coach Frowns:
Sebastian Telfair
13. Portland Trail Blazers
I've got to add a disclaimer to this ranking. I had the Trail Blazers as the worst team in the west before watching them put up a good fight against the Spurs in San Antonio last night. They've got last year's rookie of the year, Brandon Roy, playing alongside this year's breakout star, LaMarcus Aldridge. Expect some big things out of this team in coming years if Oden fully recovers from this knee thing.
Player Who Will Make Me Look Smart:
LaMarcus Aldridge
Player Who Will Get Lots of Coach Frowns:
Jarrett Jack
14. Seattle Supersonics
This team is going to be bad. Kevin Durant is by far and away their best player, and he's atleast two years from shining in the starring role. He's just too damn skinny to be a dynamo star in this league right away. They've essentially got a bunch of bench players in the starting lineup surrounding Durant, making it hard for me to believe the Sonics will muster much of a fight. The highlight of each game will be that one play every 10 minutes when Durant does something unreal on the court.
Player Who Will Make Me Look Smart:
Nick Collison
Player Who Will Get Lots of Coach Frowns:
Wally Szczerbiak
15. Los Angeles Clippers
We've seen this script before. Team loses top player — in this case Elton Brand — to probably season-ending injury and the team tanks it in order to get the No. 1 pick. When all is said and done, I'm predicting I will be able to write the prio sentence in reference to the 2007-08 LA Clippers and it will make all the sense in the world. This will be the worst team in the entire NBA. I'd draft Corey Magette in any fantasy draft because he's in a contract year on a awful team. It's a match made in heaven for a ball hog like Corey.
Player Who Will Make Me Look Smart:
Chris Kaman
Player Who Will Get Lots of Coach frowns:
Tim Thomas
How the Playoffs Will Go Down
Spurs vs. Lakers -- Spurs in 3
Mavs vs. Grizzlies -- Mavs in 4
Suns vs. Grizzlies -- Suns in 4
Nuggets vs. Rockets -- Nuggets in 5
Spurs vs Mavs -- Spurs in 6
Suns vs. Nuggets -- Suns in 7
Spurs vs. Suns -- Spurs in 7
I want to pick the Suns. I really do. I love the way they play. I'm a Steve Nash guy. I'm an Amare guy. I have a slight mancrush on Grant Hill. But when all my chips are down, I have a problem picking against Tim Duncan. He is by far and away the most complete, most skilled big men in the game today. He is one of only two or three players currently playing that I have certainty will go down in the hallowed annals of the game. And anyone who says they don't have anything to play for is off the mark. They've never repeated as NBA Champs.