A bunch of us were at the opening night of the newest Brother Jimmys when up on the television screen popped the breaking news everyone had been waiting on for weeks now.
It read "Brett Favre traded to the Jets", and as much as I had prepared myself for such an occurance, it still came as a shock. All the Brett Favre talk through the past few weeks and months never really fazed me because in the end I thought there were only two things that were actually going to come about due to all the bickering. One alternative was for Brett Favre to be the starting quarterback for the Packers. The other was Brett Favre not being quarterback for the Packers.
The two sides always seemed to be hinting at another alternative, play for a different team, but I just never bought into it. I couldn't imagine Brett Favre in another shade of green. All along I figured the talk of the Packers being so infatuated with Aaron Rodgers was a bit overblown, and that eventually the power-that-be in Green Bay would come to their senses and allow Favre to continue on his record-breaking career. And I think it's something a lot of NFL writers, as much as they want to try and justify this from a Packer perspective, are starting to realize now that one of the greatest football players of all-time got traded. Gene Wojciechowski of ESPN
laments
:
If this were a divorce, then Favre would be the one getting the alimony. The Packers were so eager to ditch the NFL's all-time leader in passing yards, touchdowns and victories by a QB that they reduced the bidding war to two teams (the Jets and Tampa Bay Buccaneers). And they settled for a conditional fourth-round pick, which will bump up to a third-rounder if Favre takes 50 percent of the snaps (duh), and a second-rounder if he takes 70 percent of the snaps and the Jets reach the playoffs.

Instead of Favre -- who earlier last season helped lead the Packers to the NFC Championship Game and finished second in the league's MVP voting -- Thompson would rather have three quarterbacks on his roster with a combined zero NFL starts. He'd rather have Rodgers than the most durable quarterback in the history of the game.
To be fair to the Packers, they got the impression from Favre that he wasn't exactly thrilled about putting in his due diligence outside the locker room. And I'm not completely sold on him doing the same in New York, where he's likely going to need to put in more time learning a completely new offense. When he arrives in New York (whenever that may be) he'll get a hero's welcome from the crowds and the media, but if he starts losing games after the Jets have now spent more than $49 million in the offseason, he could be in for a rude awakening to a situation he had no clue he was getting himself into.
In Peter King's story about this on SI.com
I, Trent Dilfer had an interesting take:
"The only thing that would concern me,'' said Dilfer, "is that Brett is going to go to New York tired and weary because of the strain of the last couple of weeks. And he's going to have to work hard to make sure he knows the offense for the first game [Sept. 7 at Miami, followed by a home date against New England], and there's going to be the media onslaught. I'd worry a little about fatigue if I were the Jets.''
Frankly, I'm not so sure about how this Jets-Favre marriage is going to work out. Certainly, on paper the Jets appear to be a playoff contender, but they're are a handful of teams in the AFC that could make the playoffs on paper. When you think about it, you've already got New England, Indianapolis, and San Diego who appear to still be the class of the conference. A half-step below all of them are teams like Cleveland, Pittsburgh, and Jacksonville. I'd put the Jets at the next level down with teams like Tennessee, Denver, Buffalo, etc. So from their perspective, I'm not sure what their motivation was other than they didn't want to watch Chad Pennington underthrow receivers anymore.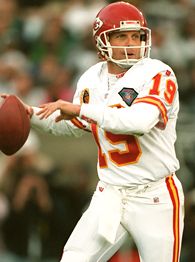 In the end, though, what appears to be quite an ugly divorce between a legendary player and a legendary franchise will soon be forgetton. Yes, Brett Favre will don Jet green (and thinking about that must have Boies beside himself) for the next season or two, but over time nobody will really remember it as anything more than an aberration. There was a lot of noise made back when Joe Montana made his comeback and played for the Chiefs. He had moderate success, leading them to the playoffs, but once he retired it went back to Joe Montana, the 49er.
I think the same will happen with Favre. We'll call him a Jet for the next year or two, and then he'll be a Packer once he actually retires for real. No matter what team Favre plays for, I'm still going to watch. Now, if he pulls another de-retiring stunt next year, and we have to be subject to constant updates about it again, then the legacy will be tarnished.