So I've had a few days to think about this year's draft and I decided I should write something real quick to go over who I thought did a good job and who I thought did a terrible job. And since I haven't seen Krauss in awhile and I know he reads this, I decided to award points to each team on a 1-5 Krauss basis. The more Krauss' a team gets, the better they did in a draft. The less Krauss they have, and I think this applies to all of life, the worse they did. Here it goes:
New York Knicks
I'm on the fence about the Zach Randolph trade. I'm really not sure it's going to work given the fact that he's essentially a better version of Eddy Curry. That means the Knicks basically have two ball hogging post players. Also, since Isiah made both the Randolph trade and the Curry trade, you know they are both going to be starters, relegating David Lee to the bench once again. And while Lee isn't the greatest scorer, he brings way more to the table in terms of hustling, defense and rebounding. But Randolph did average 23 points, 10 rebounds a game in the Western Conference going against the likes of Duncan, Garnett, Stoudamire, etc. It could work, but something tells me Randolph is going to have a Pacman moment dealing with the nightlife in NYC. Who is Wilson Chandler? But from what I'm told he could be another Isiah draft day gem.
Scores is a chain of strip joints in NYC. Zach probably doesn't know where any of them are now, but trust me, he will soon. By the way, we drunkenly tried to go to scores a few weeks ago and it was closed at 4am. What strip club closes at 4am?
Knicks: 3 Krauss'Boston Celtics
I hated and I mean hated that Ray Allen trade. No shooting guard this side of Reggie Miller and Michael Jordan has gotten better with age. Allen is 32 and definitely on the downside of his career and the Celtics gave up Jeff Green for him. There's a reason the Sonics lost so many games even with Allen and Rashard Lewis. The Celtics are not Pierce, Allen and Al Jefferson coupled with nobody. They are no better than a 6-seed in the East, and Danny Ainge has effectively mortgaged their future to appease Paul Pierce.
Celtics: 2 Krauss' Charlotte Bobcats
Well, if you watched the NBA Draft on TV, you probably noticed Steven A. Smith go on one of his patented rants when it concerned the trade Michael Jordan made in giving Brandon Wright to the Warriors in exchange for Jason Richardson and his four year contract. Now, at first I agreed with Steven A, but now I'm thinking more and more that this was actually a wise move by Jordan. Think about it, if the Bobcats resign Gerald Wallace, which they say they are going to try to do, then Brandon Wright was essentially a younger, less polished version of him. Meanwhile, Richardson seems like he has been around awhile, but he's just 26 years old, i.e. just entering his prime years. With a top-4 of Raymond Felton, J-Rich, Gerald Wallace and Emeka Okafor this team can compete in the Eastern Conference.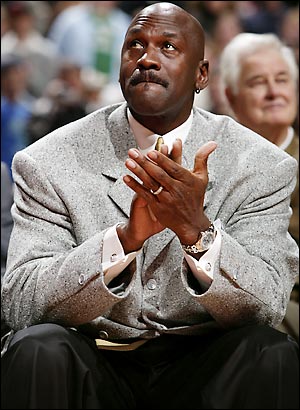 Maybe it was the Wizards that made him look like a bad GM and not his terrible GM skills making the Wiz look like a bad team.
Bobcats: 3 1/2 Krauss' Atlanta Hawks
I'll be honest, I pretty much knew their picks before they even happened. A couple nights before the Draft, I was able to talk with one of the owner's sons, who graduated from Churchill High School with me. That was part of the reason I was able to tell Acie Law that there was no chance he fell below the 11th pick. I think the Hawks made the right decisions in picking Horford and then waiting for Acie Law at 11, rather than reaching for MIke Conley at No. 3. Maybe Conley is a bit younger, but I definitely see Acie Law making more of an impact, atleast at first. He's almost four years older than Conley and therefore more NBA-ready. The only problem I had with the Horford pick is how many forwards this team has on its roster already. Think about it, Josh Childress, Marvin Williams, Josh Smith, Shelden Williams, all those guys are younger than 25 years old. It just doesn't make sense.
Hawks: 3 Krauss' Seattle Supersonics
This was the team that I thought did the best in this draft. They got rid of an aging superstar and actually got some real value for him. Think about it, they've got Wally Szerbiak's contract, which they can dump after a couple seasons, plus a solid point guard in Delonte West. And that's before you even mention that they got Durant and they got my new favorite player, Jeff Green. Green and Durant are two foundations that will serve as pillars for this franchise, whether it's in Seattle or in Oklahoma City or wherever. And all they gave up was a second round pick which turned into Glen Davis and Ray Allen, who hadn't done diddly for them last season. My only real issue with all of this is that Green, Durant, and Rashard Lewis all essentially play the same position, but that can be worked out because I also think all three are extremely diverse. It will be matchup problems galore if all three are on the court at one time.
Sonics: 4 1/2 Krauss' Portland Trail Blazers
Everyone is making this huge deal about how great the Trail Blazers did in this draft and how they've now completely ridded themselves of the Jail Blazer image. Well, I'm not buying that. They are now THE youngest team in their conference. And I would have no issue if they were in the Eastern Conference because with some of the talent they stockpiled last Thursday night, they would have a chance in the East. But in the West, they are years away. Look at their roster and here are the pieces that I'd expect them to play with next season: Brandon Roy, Greg Oden, LaMarcus Aldridge, Channing Frye, Jarrett Jack, Taurean Green, Jamaal Magloire, Darius Miles, Raef LaFrentz, and Josh McRoberts. Notice that they have about a gazillion forwards there. And also notice that nobody besides Roy and maybe Oden (but let's not forget he's going to be a 19-year-old rookie) puts any fear in my bones. And let's also not forget that the Blazers traded away their only legitimate offensive threat in Zach Randolph for 50 cents on the dollar. They got Frye, who the Knicks were cool with giving up because David Lee is a better version of him. And all this talk about cleaning up their image, and yet people forget that they got Stevie Franchise. While not a hardcore criminal, I can tell you that Stevie is from Tacoma Park, MD — worse than Baltimore. Maybe this will come back to bite me in the ass in a few years when Oden and Roy are the new version of Shaq and Kobe, but I really don't think the Blazers did much — besides taking Oden with the first pick. Now think if the Blazers had merely stayed put and not traded Randolph. That leaves you with a trio of Brandon Roy — the rookie of the year this past season, Greg Oden — who may not have a huge impact on offense right away but you can't downplay his shot blocking ability, and Zach Randolph — a 23 and 10 guy who could make up for some of Oden's offensive defieciencies. Throw in a sloid point guard in Jarrett Jack, now that's a team that could compete in the West. But I guess Randolph was really that bad of a guy...I mean he did go to Michigan State, so it makes some sense
Blazers: 2 Krauss'
That's that. I would have rated the Wizards draft, but there isn't much to say about it. Nick Young will be a nice addition offensively, and apparently the first-rounder from last year, Pecherov, has looked real good in individual workouts at the Verizon Center this offseason. Time will tell as to whether he develops into that low post threat the Wiz kids so depserately needs.
For the record, Krauss is the weird kid on the left,
not the weird kid on the right.