As many of you know, the NBA happens to be my favorite league going right now, even if not too many people actually agree with me. But that doesn't mean I haven't been watching some of the college stuff, too. I mean I do cover it for the newspaper here at Michigan. Speaking of the Wolverines, like I said in a recent post, they aren't very good this season. It's worth mentioning that they did look pretty impressive last night, beating Oakland 103-87...yeah a college team putting up 100 is definitely pretty impressive. But what about the rest of the Big Ten?...and the rest of the country for that matter. Have no fear, I'm going to make some sense out of all of it for you with a little college basketball analysis.
And yes, I realize this probably should have been done before teams started playing this year, but I figured I'd do it now so it would be a little more accurate. We don't want a repeat of me picking the Miami Heat to win the Eastern Conference-type picks:
ACC
1. Duke
2. UNC
3. Virginia
4. BC
5. NC State
6. Maryland
7. Clemson
8. Florida State
9. Virginia Tech
10. Miami
11. Georgia Tech
12. Wake Forest
Tyler Hansbrough, player of the year in the ACC
This is clearly a conference that is extremely top heavy this season. I think Duke and UNC are by far and away the class, and their two games this season will likely decide the regular season champs. In my years of watching the ACC, I've noticed the best teams usually have the best guards. That's why I have Virginia so high because of the play of Sean Singletary, who might be the best guard in the country and no one even really knows about him. I think my guard theory is refected in how high I put BC on this list. I saw them play Michigan and then watched a good portion of its game against Maryland last weekend where tthe Eagles were convincing in College Park. Eagles junior Tyrese Rice is a monster and is putting up All-ACC 1st team numbers so far.
I think NC State takes the next step under coach Sidney Lowe. I'm not exactly sure why I think this given the Wolfpack have losses to East Carolina and New Orleans on its resume already. But I like Lowe as a coach and I think his abilities steal them a couple huge wins in the conference. I like Maryland's roster a lot...except for one thing...there's too many role players and no go to guy — a la DJ Strawberry a year ago — to take the big shots in crunch time. Close losses will become a prevailing theme for this team this year. And even with wins over Mississippi State, Purdue and South Carolina in its non conference docket, I still don't believe in Clemson. That collapse last season has me completely tainted with this team. Florida State is quietly having a great beginning to the season, despite two subpar losses to the likes of South Florida and Cleveland State. We'll learn a lot about them Saturday when the Seminoles travel to Indy to face Butler.
The rest of the league is the rest of the league and I don't think have much of a chance to dance this year. Keep an eye out for Miami, though. The Hurricanes are undefeated and if they get by Mississippi State tonight, they could very easily be 14-0 heading into conference play...making them this year's Clemson because I just don't see Miami doing all that well this year come ACC time.
Final Verdict
: 6-7 bids in NCAA Tourny
Big East
1. Georgetown
2. Villanova
3. Marquette
4. Louisville
5. Pitt
6. West Virginia
7. UCONN
8. Syracuse
9. Notre Dame
10. Providence
11. St. John's
12. Seton Hall
13. Rutgers
14. South Florida
15. Cincinnati
16. DePaul
Yeah Rome...
The Hoyas have the inside and outside combination reminiscent of the great Final Four teams. You could argue Jonathon Wallace is the best guard in the conference and Roy Hibbert is the best big man. That's going to be tough to stop on any night. Teams like Villanova and Marquette will more than hold their own with the play of guards like Scottie Reynolds at 'Nova and Dominic James at Marquette. I wanted to put Pitino and Louisville higher, but they just haven't looked good early on with losses to Dayton and BYU (although BYU is legit).
West Virginia should settle out just fine without John Beilein because Huggy Bear is on the scene now. I put UCONN higher than most because of my partiality for Jerome, but this Husky squad is as talented as any in the Big East. The big question is whether they can finally put it all together or if they remain a team that can only play well in limited spurts. Syracuse is young this year, but definitely talented. I think the Orange are a year away from returning to conference dominance levels, though.
The rest are the rest and I don't think have much of a shot at playing in the NCAAs come March. Notre Dame and Providence are sleepers to keep an eye on.
Final Verdict
: 7-8 bids
Big 12
1. Kansas
2. Texas
3. Texas A&M
4. Texas Tech
5. Missouri
6. Baylor
7. Nebraska
8. Kansas State
9. Oklahoma State
10. Oklahoma
11. Colorado
12. Iowa State
The forgotten Longhorn, D.J. Augustin
Another very top heavy conference, with the Kansas, Texas and Texas A&M being the top. But there's still more balance underneath, despite how good the top 3 are. The Jayhawks are loaded as usual thanks to the recrutiing of Bill Self. The key is going to be the play of Brandon Rush on that recovering knee of his. I've watched him a couple times so far, and while he's definitely looked solid, he still doesn't look like the same player from a year ago. Everyone talked about Kevin Durant a lot last year — and deservedly so — but lost in the shuffle was the play of another freshman on that Longhorn squad from a year ago...D.J. Augustin. He's been lighting it up so far, and I bet he's gone to the pro after this year, so expect him to make the most out of this season. Bob Knight has his best Tech squad in a couple seasons with Martin Zeno — a complete package — leading the way. Mizzou is going to turn a corner this season and make the NCAA Tournament. They beat up on Maryland, gave Michigan State a run for their money, and beat a good, young Purdue team. Mike Anderson and the style he brought with him from UAB a couple years back is finally in place and ready to wreak havoc on the Big 12.
And no, that wasn't a typo when I put Baylor that high. They are my surprise team from the Big 12 to make the NCAA Tournament this year. Just three years after the atrociousness that was the whole Dave Bliss debacle, the Bears have recovered, in my opinion. They already beat Notre Dame on the road, and almost beat Washington State a couple weeks ago. Nebraska is definitely another team to be aware of since it's got lots of experience returning. And although Michael Beasley may be Derrick Coleman revisited, he and Bill Walker are going to take their lumps in a conference with a lot of solid teams. Still, Beasley is really, really good. I think Oklahoma State has a down year this season...they are basically the same time as a year ago except without its best player — Mario Boggan.
Final Verdict
: 5-6 bids
Big Ten
1. Indiana
2. Michigan State
3. Illinois
4. Ohio State
5. Wisconsin
6. Minnesota
7. Purdue
8. Michigan
9. Penn State
10. Iowa
11. Northwestern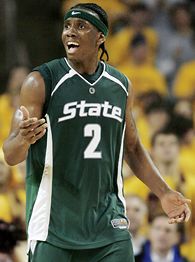 If you didn't know, this is Raymar Morgan.
This is definitely a down year in the Big Ten, with Indiana and Michigan State being the only real national threats in the conference. I think the Hoosiers have Elite 8 written all over them this season now that Eric Gordon has emerged as that outside complement to D.J. White underneath. Gordon needs to improve his shot selection, or else teams are going to start daring him to shoot to cut off his driving capabilties. The key for Michigan State is the play of Raymar Morgan. It's not a mystery that when he has a monster game, the Spartans are capable of beating anyone in the country. But once you get by those two teams, no one is really that impressive...kind of like Big Ten football. Illinois has some great interior players in Brian Randle and Shawn Pruitt, but no guards and no impressive wins after losses to Maryland, Arizona and Duke.
Ohio State has had a rough go of it against some quality competition, losing to Butler, UNC and Texas A&M. Wisco, as evidenced by its dissection courtesy of Duke in the Big Ten-ACC Challenge, has a long way to go in terms of replacing Alando Tucker and Kammron Taylor. Minnesota has a ton of veteran players and only one loss so far this season. But the Gophers haven't played anyone yet and their one loss came against Florida State. Purdue is a year away from being an upper echelon Big Ten team. I was debating between whether to rank Penn State above Michigan — my gut told me yes — but then pride came in and I was like, "I'm going to be depressed if we're worse than Penn State." Whether I'm depressed is clearly up in the air still, but for now we'll put Michigan in 8th.
Final Verdict
: 4-5 bids
Pac-10
1. Washington State
2. UCLA
3. Oregon
4. Arizona
5.USC
6. Stanford
7. Cal
8. Arizona State
9. Washington
10. Oregon State
Derrick Low is going to be a star come March
Washington State and UCLA could very well both be in the Final Four when all is said and done. They are definitely the class of this conference. Wazzou has already gone into Gonzaga and beaten the Bulldogs, and they have one of the best, if not the best guard in the country in Derrick Low. If you can't tell, I am completely sold on Wash State this year. UCLA returns everyone but Aaron Afflalo, which I think will cost them in the end. Can they find a replacement for crunch time scoring will be the key to the Bruins' success. Oregon and Ernie Kent keep bringing in talented players and they keep performing at a high level. NCAA Tourny appearances are the norm in Eugene these days. I've been really impressed with the way 'Zona has handled this whole Lute Olsen "I'm depressed because I got divorced storyline so I'm not going to coach the team this year" episode. By the way, his replacement, Kevin O'Neill, is the guy who recruited and signed William Gates of Hoop Dreams fame to a scholarship at Marquette back in the day.
USC is awesome with O.J. Mayo. A lot fo people are giving him some grief for not being as good as some other freshmen (Gordon, Rose, Beasley, etc) but give the guy a break. He's been running point while also acting as a go-to scorer — all as a freshman. He's got a lot on his plate right now, and I fully expect him to settle down once things get interesting in January and February. Standford and Cal both have the talent to make the Tournament, but nothing really stands out for meto make some wide-ranging, dynamic prediction for either.
Final Verdict
: 5-6 bids
SEC
1. Tennessee
2. Vanderbilt
3. Arkansas
4. Florida
5. Mississippi
6. Kentucky
7. Alabama
8. Mississippi State
9. Georgia
10. South Carolina
11. Auburn
12. LSU
Bruce Pearl's love triangle explained.
Right off the bat, I'll admit, this is the conference I probably know the least about. I do know this, though, Tennessee is loaded. They may have lost to Texas early on, but judging from the Longhorns win over UCLA a few weeks ago, that loss isn't bad at all. Chris Lofton feels like he's been a Volunteer for a decade now, and the addition of Tyler Smith from Iowa is going to be HUUUGEE. Smith is the real deal. The only thing holding back Tennessee is that looming controversy when it's finally revealed Brcue Pearl is gettin freaky with Pat Summitt. Vandy is 10-0, haven't played anyone, and have a coach who is as bald as my Dad. So of course they are my second pick. Expect Arkansas, led by one-time Michigan recruit Patrick Beverley, to have a very solid season after unexpectedly making the Tourny a year ago. Florida will take its licks with teams looking for some revenge after two years of brutalization. I like Ole Miss, too. Andy Kennedy has done nothng but win in his two years as a head coach (one at Cincy, one with the Rebels).
Final Verdict
: 5-6 bids
Who Else Could Be on Your Bracket (in no particular order)
1. Memphis
2. Gonzaga
3. Butler
These three are clearly the cream of the crop in terms of teams outside the power conferences. The Zags have looked good, but are sorely missing shroomster Josh Heytvelt on the interior. In terms of quality wins, nobody has more than Butler so far (and no, I'm not even calling a win over Michigan quality, either). Memphis is good, but once C-USA play starts they won't play anyone decent for like three months.
4. Rhode Island
5. UMASS
6. Xavier
7. Dayton
8. Charlotte
The Atlantic-10 is going to strong, real strong. Rhode Island has already gone into 'Cuse and won. Dayton just beat Louisville. Xavier beat Indiana...etc. They do have to be careful about beating each other up in conference action.
9. Creighton
10. Southern Illinois
11. BYU
Like I said earlier, BYU is for real this year. Jeff Bzedelik is a great coach thanks to his NBA pedigree, and forward Trent Plaisted has NBA talent.They've got narrow losses to UNC and Michigan State, but also a nice little win over Louisville. Besides, Dickie V is on their bandwagon this season.
If Dickie V likes him, I like him.
12. Western Kentucky
13. St. Mary's
14. Davidson
Davidson has already dropped five games this season, but how can you fault them for losses to UCLA, Duke and UNC. They do have a bad loss to Western Michigan on their record. The slow start in non conferenc likely means an at large bid is out of the question. But expect Stephon Curry — how do big time schools miss a guy like this — to win the Southern Conference and do some damage in the Tournament.
Well, hopefully that brought some clarity to the mayhem that is college basketball...I'll definitely have more college stuff up in the coming weeks, seeing as it is my job top follow the goings on in the sport. Now, I'm going to brace myself for my dreams and idols being demoralized courtesy of this MItchell Report...yes I will be commenting on that today or tomorrow as well.