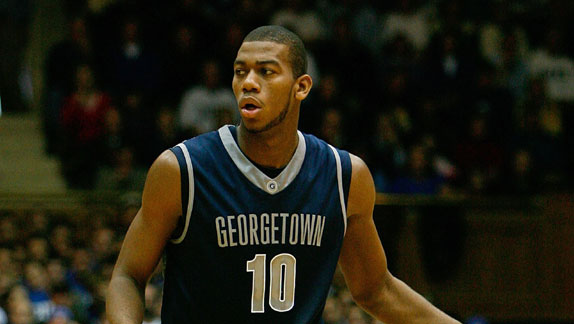 Long time no blog. Corey Maggette has been up on front of Sports and Life Ramblings way too long for my liking -- his ties to Duke notwithstanding. And for the record, from here on out I'm gonna ignore mentioning the fact that I post way to sporadically for anyone's liking.
But one of the main reasons I fall in and out of love with blogging is that I don't get any money for the stuff I write on her. On the other hand, for the Washington Post and the Washington Post Express, I get paid handsomely (that's in comparison to the free work I do here, not compared to most professionals out there).
I figure I should start linking/posting all the things I write for them on here considering my topics range from the best team in the NHL and an NCAA Tournament-bound basketball team to the enthralling world of Maryland public school basketball and Virginia high school wrestling.
So first, I'd like to point you to my story on Georgetown basketball that will appear in tomorrow's Express. I was at Georgetown-Syracuse this past Thursday in 100 level media seating since there were a ton of national media types in attendance that got courtside precedence over me. If you haven't been paying much attention to the Hoyas, they are one of the big wild cards in college basketball this year. They seem to alternate between brilliant and blah game-to-game — and sometimes half-to-half like we saw in their latest loss to 'Cuse. Since the Express has a weird website, Below is my story:
Should John Thompson III be worried? That was the all-important question posed to the Georgetown coach last Thursday night after his Hoyas lost consecutive games for the first time this season when their comeback from a 23-point deficit fell just short against No. 4 Syracuse.

"Two in a row is pain and misery, but I'm not worried about this team," responded Thompson. "This team has to continue to get better, this team will grow from these last two games, but am I worried about this group at all? No. We'll figure it out."

Trying to hone in on this team isn't easy, though. Possessing a trio of scorers as formidable as any in the country, Georgetown has looked like a Final Four contender at times this year, navigating through the nation's third-toughest schedule with impressive wins over ranked opponents like Pittsburgh, Duke, and Villanova.

And yet, there are also moments like the first half against the Orange, when the Hoyas looked overmatched and in danger of getting blown out of Verizon Center. They're now seventh in the Big East and just .500 in their last 10 games, including frustrating upset losses to Rutgers and South Florida in the past month.

But through all the ups-and-downs, an important characteristic has emerged, one that should serve No. 11 Georgetown well with Selection Sunday just more than three weeks away and a Tuesday night game at Louisville looming. Acutely aware of their 4-11 slide to end last season, players have refused to dwell, whether it's overcoming a 23-point deficit or recovering from a particularly deflating defeat.

Just like their coach, no matter how much "pain and misery" a particular loss may have inflicted, there's been a level of confidence and resiliency unbecoming of a team that features just one player (junior Austin Freeman) who has ever played in an NCAA Tournament game.

"One thing about this team is we believe in each other and we really are confident when it comes to coming back," said junior Chris Wright. "We really believe in perseverance and really trying to grind through any trouble we're in."

And while college basketball will likely dominate the sporting landscape in the coming weeks, there's no doubt in my mind that the story of this past weekend was the Olympic hockey tournament. Alex Ovechkin's hit on Jaromir Jagr in the Czech Republic-Russia game was something to behold, and is quickly turning into a metaphorical miracle for Capitals fans. The franchise's current star delivering a KO blow to the former star who let the franchise down in so many ways. Oh yeah, and in other news, our Americans upset Canada in the Olympics for the first time in 50 years. Not saying I predicted 'Miracle on Ice' success for this year's incarnation of the U.S. hockey team, but I was a pre-Olympics member of the
David Backes fan club
.
Last week in advance of this year's tournament, I penned two stories for the Express concerning the Capitals and the Winter Games. First, the reception Alex Ovechkin was sure to receive in Canada as the Caps made a two-game trip up north right before the Olympic break:
After practice Tuesday morning at Capitals Kettler Iceplex, Washington Capitals defenseman Tom Poti could only laugh and shake his head when asked about the reception his teammate Alex Ovechkin would receive upon arriving in Canada later that day for a three-day trip north of the border.

While Ovechkin may be the biggest star in the D.C. market and an ever-increasing national figure, his popularity here in America pales in comparison to the treatment he receives from the hockey-mad populace of Canada.

"He's like a rock star up there," said Poti. "There's tons of people waiting for autographs, or even just to see him and snap a photograph. It's probably 10 times the media attention and it's all focused on him."

But if it's possible, this trip up north, which includes tonight's game in Ottawa, could inspire more Ovechkin fanatics than any other visit during his five-year NHL career. That's because the Vancouver Olympics will be mere days away when the Capitals land in Canada and Ovechkin's Russian National team is the biggest threat to challenge the Canadians in the Olympic hockey tournament.

The Capitals PR staff said a typical trip to Canada involves at least a couple dozen reporters at the team's morning skate and even more at the game later that night. A standard day in Washington means Ovechkin has less than 10 reporters waiting for him after practice. As charismatic as they come in hockey, Ovechkin just eats all the attention up.

"It's fun to go to Canadian city, it's a great atmosphere over there," he said. "Sometimes when you go somewhere, it's not like hockey place, but over there, just crazy about hockey."

Goalie Jose Theodore, who played in Montreal and grew up in Quebec, sometimes can't believe the reaction Ovechkin receives north of the border. Whether it's positive or negative, it's hard to ignore the amount of Ovechkin jerseys in the crowd, he said. If anything, though, his teammates are just happy they don't have to deal with Canada's frenzied fans.

"It's nice he gets all the attention," said Poti. "We can all slip through the doors and slide away from everything."
Two days later, I had something on the double-edged sword facing Capitals management with five of its players risking injury to play for their country in these Olympic Games. Here it is:
Washington Capitals superstar Alex Ovechkin made an Olympic promise to talented center Nicklas Backstrom in recent weeks. If Ovechkin's Russians meet Backstrom's Swedes when next week's Olympic hockey tournament begins, the Great 8 is going to "kill him."

"Well, not kill him," Ovechkin quickly countered this week when a reporter brought up the statement. "But I'm gonna play hard against him."

Now that the Capitals 14-game win streak is over following a 6-5 overtime loss to Montreal Wednesday night, Ovechkin's playful threat is the biggest dilemma for owner Ted Leonsis, the man signing the $124 million paychecks of Ovechkin, currently the NHL points leader, and Backstrom, who's quietly moved into third place in the NHL points race.

While the Capitals have reached unprecedented heights — they've got the NHL's best record in February for the first time in franchise history — five of the team's best players will fly to Vancouver later this week, putting their bodies on the line in a hockey tournament that has no bearing on Washington's Stanley Cup chances this spring. The predicament has Leonsis reconsidering the NHL's relationship with the Olympics.

"One day, someone is going to lose a great player," Leonsis said earlier this fall. "Even though we have insurance, if someone suffers a career-ending injury and can't sign that next contract, people will start to think twice."

Talented wing Alexander Semin (Russia), goalie of the future Semyon Varlamov (Russia), and up-and-coming center Tomas Fleischmann (Czech Republic) will join Ovechkin and Backstrom in Vancouver next week. If any suffers injury, it would significantly alter the Capitals' lineup.

However, Capitals coach Bruce Boudreau has said repeatedly during the season that the honor of representing one's country is too lofty for him to stand in the way of players' Olympic dreams. Even teammates not participating in the Olympic tournament — who will likely take to the beaches for two weeks after facing St. Louis Saturday — believe the threat of injury is nothing to worry about.

"You can get hurt playing outside so we don't think about those things," said goalie Jose Theodore. "It's a great experience and it's gonna be fun for us to watch them play."
If you're looking for more of my fine work, be sure to check out my coverage of
high school girls' basketball
, a
preview of the Maryland high school basketball playoffs
, a recap of a
regional wrestling tournament
, a
story I did in advance of the Virginia state wrestling championships (very controversial stuff ... if you care about wrestling)
, and the
subsequent story covering the results of the state wrestling tournament
.